Yoga Retreat, Esperos Suites & Villas: Lafkos South Pelion Magnesia Greece
Yoga Retreat, Esperos Suites & Villas: Lafkos South Pelion Magnesia Greece
Yoga Retreat, Esperos Suites & Villas: Lafkos South Pelion Magnesia Greece
Yoga Retreat, Esperos Suites & Villas: Lafkos South Pelion Magnesia Greece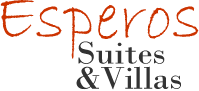 Book online
Yogaretreat in Pilion/Greece June 29 -July 6 2019

Intensive yoga practice in one of the most stunning areas in Europe. Yoga practitioners of all levels are welcome.

PROGRAMME:

This yoga vacation offers the wonderful opportunity to experience the effects of asana and mediation through intensive practice.

With daily morning meditation, breathing exercises and one to two guided yoga sessions per day, we will embark on an exciting journey to ourselves.

In between there will be enough space and time to explore the area on your own.

The idyllic village of Lafkos is one of the most beautiful on the peninsula and the sunsets remain unforgettable events ...
Yoga platform with incomparable views

Restaurants & grocery stores in the immediate vicinity

Infinity pool
Registration & Infos

Mail to: yogaamsee@gmail.com