Esperos Pool Cafe, Esperos Suites & Villas: Lafkos South Pelion Magnesia Greece
Esperos Pool Cafe, Esperos Suites & Villas: Lafkos South Pelion Magnesia Greece
Esperos Pool Cafe, Esperos Suites & Villas: Lafkos South Pelion Magnesia Greece
Esperos Pool Cafe, Esperos Suites & Villas: Lafkos South Pelion Magnesia Greece
Esperos Pool Cafe, Esperos Suites & Villas: Lafkos South Pelion Magnesia Greece
Esperos Pool Cafe, Esperos Suites & Villas: Lafkos South Pelion Magnesia Greece
Esperos Pool Cafe, Esperos Suites & Villas: Lafkos South Pelion Magnesia Greece
Esperos Pool Cafe, Esperos Suites & Villas: Lafkos South Pelion Magnesia Greece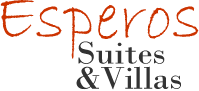 Book online
At Esperos - Pool Café, there is no place for luxury and expensive items....
Here, you will feel our immense love for the place that hosts us and our deep respect for the Nature of Pelion and the People who live here.
That is why we chose to include locally sourced produce in our menu.
That is why we chose to only use biodegradable and compostable plastic, wooden or cane disposable tableware and cutlery.
Because we choose to be in complete harmony with the only source of life, Nature. 
And we want you with us!
From our menu.....
THE HERBS
Since the time of the Centaurs and up to the present day, Pelion has been famous for its wealth of herbs and their unique healing properties. All herbs used are locally harvested by gatherers in the villages of Pelion.
THE BREAKFAST
The produce used comes from local cooperatives and small producers. Kick off your day with a healthy choice, full of energy, from the summer residence of the Olympian gods.
THE GREEK DISTILLATES
The culture of distillation is a deeply rooted tradition in our area, with the "kazanemata" (distillation in cauldrons) being the occasion for strengthening community relations. Volos and Pelion are home to the traditional tsipouro restaurants, places where the locals gather to reflect on life while drinking tsipouro and eating "meze" (nibbles) after a hard day of work.
Enjoy your distillate with some nibbles and reflect on life like a local, overlooking the Aegean!
THE LOCAL WINES
The special microclimate of Arghalasti makes our area's wines unique and fully harmonized with the herbs used in the cuisine of the Mountain of Centaurs.